The Swedish Vikings of Amon Amarth are at it again with their NINTH studio album, Deceiver of the Gods due out later this year! 
They've been using the power of social media to make sure EVERYONE KNOWS that the Vikings are back and here to pillage your ear drums.  Earlier this week they unveiled the EPIC ALBUM ART via their Official Reddit…yeah reddit, how awesome is that? 
And today they unveiled the title track off of the album for streaming via their official website.  However, there have been some streaming issues so you can listen to it here as well: http://official.fm/tracks/H8oa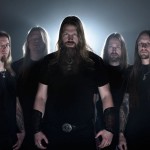 You can expect us to bring you more on this already epic sounding LP.  Now we do have a special request for you. GO SEE THEM OPEN THE MAINSTAGE ON THE ROCKSTAR ENERGY DRINK MAYHEM FESTIVAL.  Tour dates here.  This may be one of the only times you'll have the opportunity to see Amon Amarth in a festival setting without having to recycle your beer bottle collection for that CA CRV, just to afford a damn plane ticket to Europe.  
Speaking of beer, have you seen AA's custom brew? (That's short for Amon Amarth…not Alcoholics Anonymous) Unfortunately, RAGNAROK, as it was so "appropriately" named, was only brewed once by the Three Floyds Brewing Company in Indiana, US.  At least we can look at bottle art! Huzzaahh.  
Okay, I'll stop over fluffing this post.  It just seemed so non-Viking to just post "album art…song link. K thanks"