4.20 is known for a few things, namely marijuana and Hitler's birthday. However, this 4.20, we were treated to something a bit more special. My local gastropub in beautiful Upland, CA, Limerick's Tavern, held a fantastic tap takeover from the wonderful brew guru's in Escondido's Stone Brewing.
Now let me break it down with what goodies they brought to the table.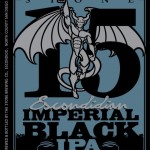 1. 15th Anniversary Imperial Black IPA aged in Scotch Barrels
A hefty imperial IPA with tremendous hop characteristic and a refined imperial finish.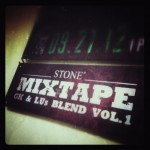 2. Mixtape Volume 4
This is a behemoth. This is a blend of some of the best Stone has to offer. Within this 11.2% bombshell is a blend of some incredible beers: 2012 Stone Imperial Russian Stout aged in Bourbon Barrels, 2012 Imperial Russian Stout aged in Red Wine Barrels, 2012 SOld Guardian Barley Wine aged in Red Wine Barrels and an unreleased Belgian Brown Ale aged in Red Wine Barrels. This one is black as night and is balanced out by hints of cherries to add a sense of  finesse.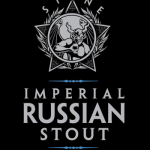 3. Stone Imperial Russian Stout 2013
A black Russian Stout with a nice roasty finish and a strong coffee backbone that can literally break your back at a whopping 10.6%. It is remarkably smooth and for its high gravity presents a very low sense of alchohol heat ending with bitter, floral hops to give it its 60 IBU's. Its odd-yeared brother was also here: the espresso mix which not only is smooth as butter but has the bitterness of the floral hopes juxtaposed with the strong coffee addition.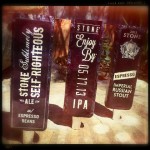 4. Sublimely Self-Righteous with Espresso Beans
Take one of the best Imperial IPA's in existence and add in some espresso. Its a coffee-laden, hop filled, beast of a beer that is like a Starbucks coffee in an ideal world.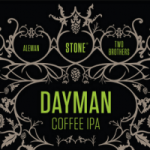 5. Dayman Coffee IPA
This is one of the best beers I have had, bottled or draft. Take an IPA, throw the hops in the face of the drinker and finish with that bitter kick of coffee. Its one of a kind. 
6. Double Dry-Hopped Levitation Ale
The most sessionable of Stone's catalog gets a bit meaner with a double dry hop that gives the normally rather tame beer a voracious bite.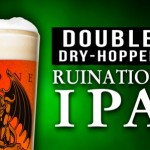 7. Double Dry Hopped Ruination
Ruination is notorious for being one of the hoppiest monsters on the market. Take that monster and hop it up even more and you get this twisted creation.
 Overall, a few of these beers are still on tap over at Limerick's in Upland, California. I would love to sit back and write hundreds of words describing each beer to its most minute detail and break apart each beer, but I wanted to give you an idea of this fantastic event hosted by our friends at Limerick's Tavern. Perhaps next time I sit down to enjoy a fine beer, I will detail each little nuance and provide an in depth tasting.