Review Overview
8.5
Deathrash: the best kind of rash
Summary : Just listen to it. I'm not gonna tell you twice.
It's not often that a new wave of thrash band comes around and actually BLOWS MY FUCKING MIND.  In fact, I can only think of one debut album (and believe me, I've had to listen to quite a few) that has come out in the past couple years or so that has had such an impact on me.  That album is Noisem's debut, Agony Defined.
Artist:  Noisem
Album:  Agony Defined
Genre: Death/Thrash Metal
Label:  A389 Recordings
Release: June 15, 2013
The album opens with an instant kick in the teeth with the blistering "Voices in the Morgue", and keeps going for 25:47 of pure death/thrash aggression.  The dual guitar attack of Sebastian Phillips and Travis Stone harkens back to such classic bands as Demolition Hammer and Morbid Angel, while Yago Ventura's bass playing on tracks like "Desire and Disgust" is definitely influenced heavily by Cannibal Corpse.  In fact, the entire album gives me a very "Eaten Back to Life" feel, which is an EXTREMELY good thing.
One of the most impressive things about the album, to me, is the drumming, especially when you take into consideration that they were recorded by a sixteen year old.  As a matter of fact, the oldest member of the band is bassist Ventura, at a fresh 20 years old.
And of course, what would this album be without the vocals?  Tyler Carnes' vocals tear through you like a perfect mix between Repulsion's Scott Carlson, Morbid Angel's David Vincent (Before his Genitorturers 'Evil-D' days), and Obituary's John Tardy.  Tracks like "Chronic Dementia" and "Severed" showcase his vocals perfectly, with the latter having some of the coolest lyrics I find myself singing along to when I blast this album down the street (The mortician is about to begin/to lay to waste the bodies he's defiled/Raping the dead, the most unspeakable sin/Rotten stench of the bodies left piled/YAOOOOOGHHHHHH!!!!!!!!)
The production on the album is another high point for me.  It's clear, but it doesn't suffer from being TOO clear, like a lot of modern thrash albums seem to.  The album tears into you with visceral aggression and doesn't let up until it's over.
Overall, this is a seriously kickass album, from front to back.  Every single song is fast, aggressive, short and to the point.  Noisem doesn't fuck around, and one look at some live footage of these kids shows that perfectly.  Catch them live this summer at Maryland Deathfest (I'll see you fuckers there!), Scion Rock Fest, or on tour in the Midwest with Ringworm, Mutliation Rites and Encrust.
Track Listing
Track Listing
Voices In The Morgue
Birthing the Bestial
Desire and Disgust
Mortuary
Rotten Remains
Severed
Split From The Inside Out
Chronic Dementia
Agony Defined
Personnel
Personnel
Tyler Carnes – Vocals
Sebastian Phillips – Lead Guitar/Vocals
Travis Stone – Lead Guitar/Vocals
Yago Ventura – Bass/Vocals
Harley Phillips – Drums
Order "Agony Defined"
Connect with Noisem
Pre-Orders Coming Soon: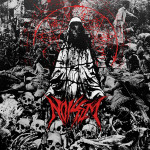 A389 BandCamp
Review Overview
8.5
Deathrash: the best kind of rash
Summary : Just listen to it. I'm not gonna tell you twice.