I had the chance to chat with Thy Art is Murder, an Australian Deathcore band, about their upcoming release Hate via Nuclear Blast Records.
The US doesn't see that many Australian metal bands come through often, however, you seem to have quite the following in the western states.  Why do you think your influence carries overseas?
Lee: I actually have no idea haha!
CJ: yeah, not really sure why, but all I know is that we a super stoked about it, we hope to come to US asap, so we can crush a load of shows and meet the people who've been supporting us since day one!
Brendan Van Ryn was your vocalist up till 2008, his lyrics seemed to be particularly popular amongst fans.  Was there difficultly adjusting the songwriting after his departure?
Lee: That was a long time ago. The whole band contributes to the lyrical content so no. 
This particular genre is characterized by crushing beats and grueling riffs.  In order to work harmoniously, every musician needs to be on the same level.  What drew you to choosing Chris McMahon as your new vocalist?
Lee: Again, this was 5 years. Ancient history in today's world. CJ was a friend of ours who we had played heaps of shows with. He has always had a brutal voice! So it was a no brainer to get him on board.
In addition to Van Ryn, you've changed guitarists in the past.  With these lineup changes, do you think your sound is at its final stage, or is there room for evolution?
Lee: Those lineup changes were a while back. It's natural for that to happen with young bands, I reckon a lineup staying solid is the exception not the rule. I think the band is as solid as we have ever been! We'll keep growing with every new release as our abilities grow.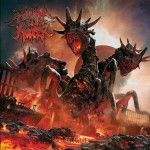 Your current album, titled Hate, will be releasing in the United States on April 5th via Nuclear Blast Records.  How has the response been back home?
CJ: The response was massive, we had no idea that it would blow up as it did, we are really happy that it has done so well
Speaking of Nuclear Blast, how has the addition of the largest independent metal label in the known universe been beneficial for the band on an international level?
CJ: It has been amazing, they have really got behind us in every way possible. We visited the head office in Germany, they treated us like family. We never thought it would be possible to be part of that label but it happened, it's wild. The Nuclear Blast team in the UK were great people, we've had a great time working with them, same with the US team. Nuclear Blast are truly the best at what they do.
The road to international appeal isn't met by just successful releases which I'm sure you all know.  What are your current touring plans, if any, and where would you like to play?
Lee: We have an Australian tour with Cattle Decapitation in June, Then we are back over to Europe for some festivals and a few shows with Between The Buried And Me in June / July. We are up for the Summer Slaughter tour in the opening slot voting competition (you can chuck a vote on Facebook). We've got Asia, more Australia and more Europe for rest of the year!
Your name, Thy Art is Murder, seems to be a bit cliché.  Is there any particular inspiration?
Lee: The vast majority of band names are stupid clichés, especially in metal. What do you expect a bunch of 15 year olds playing death metal to pick as their band name?! Pissing off mum is job number 1.
 Hate displays very bold album artwork.  Does it have any particular reference to the album?
 CJ: We got the designer to do what he thought when he listened to the record and he made the art work perfect. We are stoked with it, it's mental.
 Music is great an all, but you have to have hobbies outside of the world of brutality.  What are some of the things you do for fun?
 Lee: I dont mind heading up to the pub to watch the footy and the occasional round of golf
 Lastly, do you have any final words for Der Metal Krieger and your fans across the world?
 Lee & CJ:  Cheers to anyone that's supported us over the years! And cheers for the interview. Vote for us to open the Summer Slaughter if you want to see us in the USA soon!
Order Hate!
Order Hate!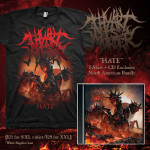 Nuclear Blast USA