Review Overview
8.4
Screams in the Attic
Summary : Fans of King Diamond will enjoy classic heavy metal boasting talented guitar work, and killer vocals!
Has King Diamond dabbled in the Occult and witchcraft so much that he has managed to call on the dark powers to reincarnate himself into a younger, stronger version of himself and form a new band based in Germany even before he has even died?  Well it seems this might very well be the case in the form of vocalist Meister Cagliostro of Attic.
Attic's debut album, The Invocation, is an album that King Diamond could listen to, think he himself had written and then also performed on.  The songs presented here are filled with horror/occult inspired lyrics, a singer that sounds as every bit as strong or stronger than King Diamond, has well written songs and excellent guitar work.
Artist:  Attic
Album:  The Invocation
Genre:  Traditional Heavy Metal
Label:  Ván Records
Release: December 7, 2012
I will be the first to admit I never was a very big fan of Mercyful Fate or King Diamond.  I was always attracted to the theme of the bands work and the great guitar work but it was the vocals, especially the ultra high pitch vocals, of King Diamond that always turned me off.  They never felt they fit in with the song or they just took me completely out of the mood that the song was striving for.  So with Attic I am actually surprised at myself that I enjoyed their debut so much.  Though Cagliostro's vocals do hit the glass breaking levels that King Diamond does, they somehow seem to fit in better with the songs presented here, along with when he sings in a lower key.  Does this make me a hypocrite?  I'm not sure.  I have tried many times over the years to go back and listen to King Diamond and Mercyful Fate but just could not get into them.  Attic on the other hand, I found myself listening to multiple times, and though there are still times the high pitch vocals didn't sit well with me I still enjoyed what I heard here. 
I think one of my favorite tracks on The Invocation is 'Satan's Bride' where Cagliostro's vocals hit all spectrums and really showcase his abilities.  The other tunes, 'Funeral in the Woods', 'Join the Coven' and 'Ghost of the Orphanage' all are strong tunes and boast the occult/ black magic themes fans of both Mercyful  Fate and King Diamond should instantly take to.
As for the music itself you will find The Invocation offers a classic Heavy Metal style that is straightforward, boasts talented guitar work, with an accessible sound, and catchy melodies/leads.  All packaged nicely together to make a nice metal record for all fans of the genre.
Track Listing
Track Listing
The Hidden Grave
Funeral in the Woods
Join the Coven
Edlyn
Ghost of the Orphange
In the Cahpel
The Invocation
The Headless Horseman
Satan's Bride
Evil Inheritance
Personnel
Personnel
Meister Cagliostro: Vocals
Katte: Guitar
Rob: Guitar
Chris: Bass
Roman: Drums
Order "The Invocation"
Connect with Attic
Available Now: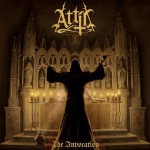 Amazon.com
Review Overview
8.4
Screams in the Attic
Summary : Fans of King Diamond will enjoy classic heavy metal boasting talented guitar work, and killer vocals!