It's been three years since we had another Finntroll album to sink our teeth (and ears) into, and what a long three years have they been.  Rooting from the tale of the Swedish priests who encountered a wild savage man-beast in Finland, Finntroll has brought a mixture of black metal, folk melodies, and traditional humppa since their formation in 1997.  Sixteen years later, they are still bringing the grueling trollish might with their upcoming release Blodsvept.  While the band has had some lineup changes in the past, most notably the vocalist, Finntroll has maintained a similar sound that never seems to get stale. So bring on the blood, murder, giants, and trolls and let the blood sweep!  
Artist:
  Finntroll
Album:
  Blodsvept
Genre:
  Pagan/Folk Metal
Label:
  Century Media
Release:
 April 2, 2013
Since their first release, Midnattens Widunder, in 1999, their black metal style has been incorporated in each album, but not always at the same density. That terminology implies a weight that black metal carries, and that's exactly what it does.  It adds a certain atmosphere that can shroud and lead through a song.  This was very evident on Finntroll's last release, Nifelvind, but it carries over into Blodsvept in a different fashion.  It's less dense, allowing more room for the folk/humppa melodies to provide more than just a fun sound to troll-hop around to when no one is looking.  Now that troll-hop adds a groove that feels almost as natural as it is otherworldly.  
The title track "Blodsvept," was made  streamable online last month on Valentine's Day, which I'm sure we all used to woo our dates.  It opens up the album with  ominous sounds and encroaching footsteps that end with a sudden, crunchy, delicious growl to break into the beginning of the song.  It's a bit different than one would expect, yet it has a familiar sound, if that makes sense.  It's a combination of that layered repetition of dark sounds found in the song "Födosagan" from their second album, Jaktens Tid and the aggressive riffage in "Mot Skuggornas Värld" from 2010′s Nifelvind.  
YouTube - Blodsvept (Official Album Track)
YouTube - Blodsvept (Official Album Track)
I find that Finntroll has always had a bit of a mischievous sound infused with their music, like these trolls are up to no good! "Mordminnen" feels like there is an influence from American Big Band/Swing music with its fun jazz line, though the traditional jazz instruments sound like they've received some trollish modifications.  "Häxbrygd"  is just one fantastically evil song about witches brewing a devilish broth.  If played live, the crowd should break into tribal dancing moshes filled with mass hysteria as Vreth commands his menacing growls over all in sight.  
The rest of the album follows a similar suit, jazz-influenced with hints of punk rock, and of course the ever-so welcoming folk metal assault that this band so graciously provides.  "Ett Folk Förbannat" paints an atmosphere of insanity, full of dynamics, and the impending urge to dance lurking its head around every beat.  The death march of "När Jättar Marschera" merges Beast Dominator's hard-hitting drum beats with Trollhorn's catchy troll synths.  
Blodsvept closes with a peculiar track "Midvinterdraken" and by peculiar I don't mean that the song does not belong, rather, that is is a bit off the beaten path for Finntroll.  It's a longer track that is very dense in atmosphere, extremely dark, but very grand.  It has such a large sound that it is almost like a Finntroll Epic, if only it was longer.  
What does it take to enjoy this album? Not much.  While there is definitely room for scrutiny in the more distinct change of sound from previous efforts, it should be embraced and understood.  Even though their instrumentals have pickpocketed from other less relative genres, the same Finntroll spirit of debauchery, bloodshed, and mischief runs through the veins of Blodsvept.  You can be assured that the Rivfader lore, masterfully crafted into their music by the original vocalist Jan "Katla" Jämsen, is still present in this release.  Should you get this album? Yes you should.  Whether or not the album meets your expectations is up to you, but you cannot go wrong in owning a copy of Blodsvept.  It's familiar, fun, and fresh all in one.  And how often are you able to let out your inner troll? So go now and get blood swept!
Track Listing
Track Listing
Blodsvept
Ett Folk Förbannat
När Jättar Marschera
Mordminnen
Rösets Kung
Skövlarens Död
Skogsdotter
Häxbrygd
Två Ormar
Fanskapsfylld
Midvinterdraken
Personnel
Personnel
Tomi Koivusaari – rhythm guitar

Esa Holopainen – lead guitar

Jan Rechberger – drums
Santeri Kallio – keyboards
Niclas Etelävuori – bass, backing vocals

Tomi Joutsen – clean and growled vocals
Order "Blodsvept"
Connect with Finntroll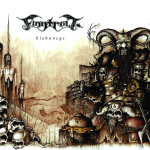 Available as a Pre-Order: