Scarlet here with a live review of the Metal Alliance 2013 show in Hollywood on March 27.  The title of this article says it all.  With a lineup like that, how could you miss it! I was able to take photos right against the stage which you can view here: Lili.Scarlet Photography

Last Wednesday, the House of Blues Sunset Strip was filled with many anxious fans. With its third year, Metal Alliance struck the metal scene with another killer tour. Many rushed to purchase their tickets way ahead in advance, making it sold out days before the show.
Upon arriving to the venue, a sea of thrashers looked for scalpers to find a way into the venue. No one wanted to miss this show; indeed it was a show not worth missing.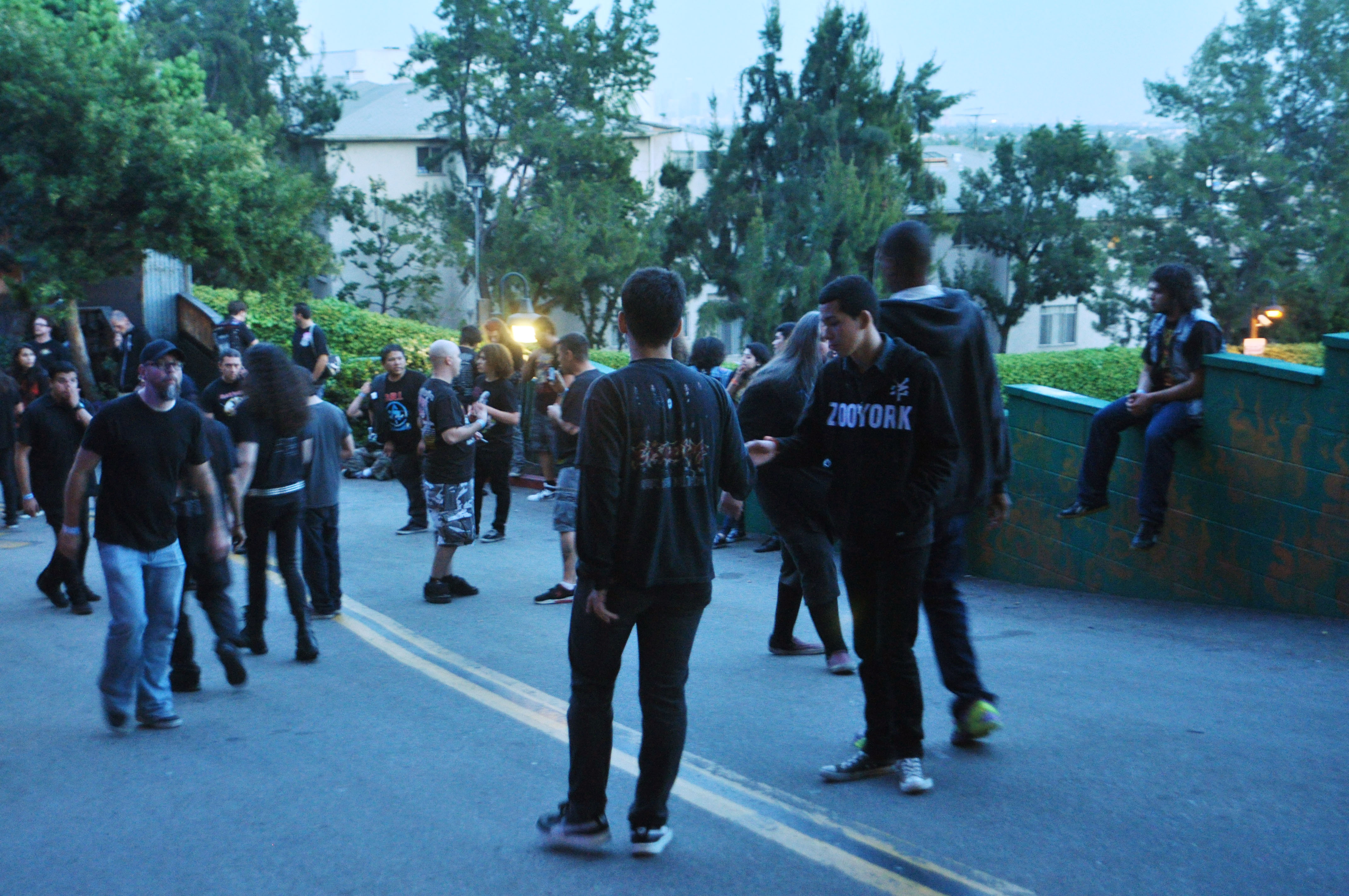 Even though the show started fairly early, many like myself rushed from work to make it on time. Holy Grail's set could not be missed! As a local band, they had much pressure to showcase their true talent of a great Los Angeles Heavy Metal band. This band was a perfect opening band, getting straight into the crowd favorites and hyping everyone up. James-Paul Luna always surprises the crowd with his killer vocals. The harmonizing sweep arpeggios of Eli Santana and Alex Lee gets the pit in a twirl. This up-and-coming band will definitely continue to surprise us. 
The next band needs no introduction. Seriously, if you have not yet seen the new Vans 2013 Brand "Anthem" Parade commercial, you have been sleeping under a rock. "Municipal Waste is gonna fuck you up" and they sure did. As soon as they hit the stage, crowd surfer flew over the barracks. They played many favorites and left the crowd wanting more. The confetti canon made an appearance during their set, and even though I have seen them use it before, it still seems to leave me in complete awe. "Beer pressure", "Unleash the Bastards" and "The Art of Partying" were some of the highlighted songs of their set.
This tour had such a great thrash lineup, but I was excited to see High on Fire on the bill. Matt, Jeff and Des make a great trio. Their set was killer, but they had a few technical difficulties due to them not having time for a sound check prior to the show starting. The Los Angeles thrashers didn't seem to understand their music much. The crowd had died down during their set. I was a tad bit disappointed because they did such a good job and they played some of my favorites; "Rumors of War" and "Snakes for the Divine". Nevertheless, they did expose themselves to a new crowd, and many went home with a new appreciation of High on Fire!
The beast hit the stage next. Exodus, always brings the love of old school back to life! They rolled out many classics from the Bonded by Blood album such as; "A Lesson in Violence", "Strike of the Beast" and "Piranha". One of my favorites had to be "Toxic Waltz". I could not contain my energy and ran straight into the moshpit to join all the other crazed fans. Exodus will forever be one of my all-time favorite Bay area thrash bands. They never cease to disappoint and always deliver the best and most energetic performance they can give.
As soon as Exodus walked off the stage, a sense of excitement and sadness hit. I was excited to watch Anthrax perform, but I knew the show was coming to an end. I was aware of Among the Living being played in its entirety, but was not expecting the many surprises we had during their entire set. The Los Angeles crowd surely did get a better treat than most destinations on the tour. The biggest surprise for me was when Chuck D of Public Enemy joined them on stage for "Bring the Noise".  Chuck D was not the only guest that shared the stage with Anthrax, the legendary Slash of Guns N' Roses also made an appearance during their AC/DC cover of "TNT". This was a show that will forever be embedded into my memories. With such a killer lineup this year, I wonder what next year will look like, and if Metal Alliance can even be topped off…