Review Overview
7.6
No reason to Hate!
Summary : While the album broadcasts a clear deathcore sound, it has a few subtle surprises that may grab your attention
We don't usually get many bands from the Land Down Under floating overseas, and a niche genre like Deathcore is even more surprising at that. However the sandy shores of Australia have a decent scene, which Thy Art is Murder is crushing down with every performance.  The band was recently signed by Nuclear Blast Records, who is currently distributing their latest album Hate across the world. But those of us at DMK, living in the diverse Los Angeles metal scene, have seen a lot of deathcore bands in our record stores and at our venues.  I sometimes just overlook "the next big thing" in that scene, because in the end the music blends, gets generic, and loses any form of musicianship. It gets annoying and just becomes metallic noise, that isn't pleasing what so ever. 
Artist:  Thy Art is Murder
Album:  Hate
Genre:  Deathcore
Label:  Nuclear Blast
Release: April 2, 2013 (North America)
While I already sound pessimistic, I come to you with good tidings, Thy Art is Murder is more than your average Deathcore band. With bands like Whitechapel and Winds of Plague making some of the largest influences on the scene, and not to mention the gravity that the passing of Mitch Lucker (Suicide Silence) has had on people across the spectrum, it often becomes difficult to stand out.  After playing Hate a few times, I see that TAIM combines technicality with melody much like that of a talented Melodic Death Metal band.  But this is far from Melodeath, so before the elitist begin to rant, just know that you can expect something more than just breakdowns, repetitive down-tuned riffs, and generic gutturals. 
Personally I got some grindcore vibes throughout the album, which reminded me of the newer style of Cattle Decapitation.  The open track "Reign of Darkness" is approachable and interesting, with fast and brutal drums provided by Lee Stanton.  The guitar work is technical, with some sweeps and scales thrown in to add melody to the "in your face" approach to opening up the album.  "Shadows of Eternal Sins" has subtle hints of black metal thrown in which is a bit refreshing, since songs like these really begin to merge together is played consecutively.  "Defective Breed" sounds more like a Death Metal song, a bit reminiscent of Decrepit Birth, if there wasn't already enough pulsating metal in Hate. 
The boys in Thy Art is Murder have brought us something a bit off the beaten path for those who followed the footsteps of Suicide Silence.  They turned back the clocks and brought out the original influences from Suffocation, and making their breakdowns more than just a change in time signature that sounds hardly more interesting than a lawn mower.  It could be something in the water, over there in the Southern Hemisphere, or it could be an understanding that music is only music if it has substance.  And substance shouldn't just be borrowed, it should be made.  That's what Thy Art is Murder has done, they've created Hate, a great attempt at refreshing a rapidly staling genre.  Expect these Aussies to bring forth hatred in a venue near you with the Nuclear Blast team behind them every step of the way.  Crack open a Foster's and begin the Hate!
 Check out our interview with THY ART IS MURDER 
Track Listing
Track Listing
Reign of Darkness
The Purest Strain of Hate
Vile Creations
Shadow of Eternal Sin
Immolation
Infinite Forms
Dead Sun
Gates of Misery
Defective Breed
Doomed from Birth
Personnel
Personnel
Lee Stanton - drums 
Sean Delander - bass guitar
Chris "CJ" McMahon - lead vocals
Andy Marsh – guitar
Tom Brown - guitar
Order "Hate"
Connect with Hate
Order here: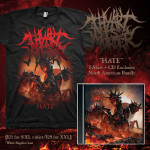 Nuclear Blast USA 
Amazon.com
The band has a request for you!
Vote for us to open the Summer Slaughter tour 2013! If we win, it will be our first US tour which means we can all hang out and go fucking mental! Vote here: http://bit.ly/taim-summerslaughter
Review Overview
7.6
No reason to Hate!
Summary : While the album broadcasts a clear deathcore sound, it has a few subtle surprises that may grab your attention