Review Overview
8.6
Tech-tastic
Summary : A relentless onslaught of melodic technicality that will leave you wanting more
Arsis is one of the few bands that does tech death right nowadays. Where many other bands go astray by overlooking the actual music and instead focusing on how complicated a song they can write, James Malone and Company consistently find a way to use their technical prowess to write music as opposed to writing music for the sake of technicality. There's a big difference, and Arsis shows how it's done. The sophisticated songwriting, plus the technical riffing and chops of James Malone and Brandon Ellis are on full display as Arsis' fifth offering in Unwelcome proves to be the most enjoyable metal album I've had the pleasure to listen to thus far in 2013.
This is the first album to feature new guitarist Brandon Ellis, and what a debut he makes! It's worth pointing out that he's only 20 years old, and he's scarily good for his age; his phrasing is excellent and his technique is definitely right up there with the masters. Playing in a band with James Malone, who of course is a phenomenal player himself, will only benefit him; who knows how good he'll be ten years down the road!  Case in point, the guitar-work on Unwelcome is absolutely brilliant. The leads on this album are simply killer, with tasty arpeggios being sweep-picked and tapped with squeaky clean efficiency. They even manage to slow it down at times, with some mighty-fine melancholic melodies on display. The riffs are a relentless onslaught of melodic technicality that you never get bored with. Guitar-wise, this album is definitely one of metal's recent highlights, and is quickly becoming one of my personal favorites.
James Malone doesn't give himself enough credit as a vocalist. In one of his online guitar lessons regarding his multitasking, he proclaims himself a felon at singing but he's overlooking one important point: this is freaking death metal. Who the hell wants to sing? His harsh vocals are vicious and the fact that he can sing while playing guitar at the level that he does is monumental in itself. The drumming is predictably excellent, as it would have to be to suffice for a tech death band. It's worth pointing out that the technicality lies more in the guitars than complex time signatures though.

There's a good blend of juicy flavors to be found on Unwelcome.  King Diamond and Mercyful Fate have repeatedly been cited as a major influence to Arsis, and it rubs off on this release to a shocking degree. Many of the riffs are extremely reminiscent of King's bands (on Sunglasses at Night especially), and it certainly adds to the overall darkness of the album. If King Diamond was trying to make a death metal album back in 1984, it might not have sounded far off from this. The level of atmosphere is surprising. Instead of sounding completely polished, Arsis retains a degree of old school death metal atmosphere, an element that is largely forgotten about by bands of this day and age. Needless to say, Unwelcome is surprisingly diverse for a technical death metal album.
relentless onslaught of melodic technicality that you never get bored with
Front to back, this is easily Arsis' finest album. Everything about it is just so well done; the balance of songwriting and technicality, the excellent production, and perhaps most importantly, the guitar playing. Everyone in the band is excellent at their respective instruments of course, but it is really the tag-team of Malone and Ellis who steal the show here. Here's to hoping this is the beginning of a long and shredtastic partnership. Arguably, the best heavy metal album released thus far in 2013, it should be picked up and enjoyed by any fan of extreme metal. And also by all those cookie cutter tech death bands on the scene right now (you know who you are). Take a leaf out of these guys' book. This is how it's done.
Highlight Tracks: Unwelcome, Choking on Sand, Sunglasses at Night, Martyred or Mourning
Track Listing
Track Listing
Unwelcome
Carve My Cross
Handbook For The Recently Deceased
Choking on Sand
Let Me Be The One
Sunglasses at Night
Martyred or Mourning
No One Lies to the Dead
I Share in Shame
Scornstar
Personnel
Personnel
James Malone – guitar, vocals (2000–present)
Noah Martin – bass (2006–2008, 2010–present)
Shawn Priest – drums (2008, 2012–present)
Brandon Ellis – guitar (2012–present)
Order "Unwelcome"
Connect with Arsis
Available as a Pre-Order: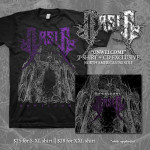 Nuclear Blast USA
Review Overview
8.6
Tech-tastic
Summary : A relentless onslaught of melodic technicality that will leave you wanting more